Ever since I started using Snapchat, my cellular data plan exceed its limit (Note: I don't have unlimited data like most people). Furthermore, my iPhone battery and storage also got affected negatively.
After playing around with the Settings app, I was able to pinpoint the exact problem. For most people, they probably don't know that Snapchat is killing their data and storage. If you use this app on the go a lot, you will notice that it's already taken up more than 1 GB of your mobile data. Also, Snapchat stores cache on your iOS device to make the app faster whenever you open it, thus the user experience is always fantastic.
When my storage space made the sacrifice, I'm unable to install additional apps or save extra photos. If you're on the same boat, here are some tips on how to save your battery, mobile data, and free up some storage space while using Snapchat on your iPhone.
Turn on Travel Mode
Did you know Snapchat can reduce its high data usage? It's called Travel Mode. Snapchat claims that when this feature is enabled, it will "reduces Snapchat's mobile data usage."
Usually, when you open the app, all your snaps and stories will be loaded automatically. If you turn on Travel Mode, those contents will only start loading when you initiate them.
To turn on Travel Mode on Snapchat:
Open Snapchat on your iPhone
Tap on your Bitmoji
Select the Settings icon
Go to Manage
Tap on the toggle (it will turn green)
Although it's called "Travel Mode" you can always have it on to save a few extra MBs in cellular data.
Clear Snapchat Cache
Like I mentioned earlier, Snapchat store files right inside its app. The purpose of this is to always make it fast every time you open and use the app. If you're running out of storage space on your iPhone, Snapchat should be the first app to look into.
To find out how much storage space your Snapchat app has consumed:
Open the Settings app > General > Storage & iCloud Usage > Manage Storage
Tap on Snapchat
The value should be next to Documents & Data
Usually, to clear an app's cache, you would need to uninstall it. However, Snapchat has a built-in feature for that.
To Clear your Snapchat Cache
Open Snapchat
Go to Settings > Clear Cache (scroll all the way down)
Tap on Clear All
Confirm your action
Snapchat will let you need that it needs to be restarted. After that, you will see a significant increase in free storage space.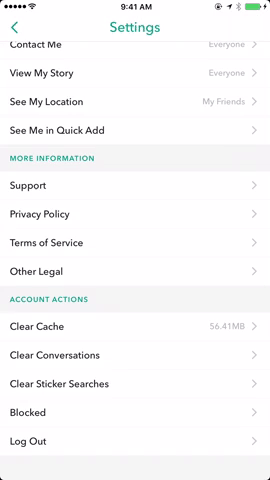 Hide Discover and Live Stories on Snapchat
If you ever tap on one of the new stories under the Discover section, Snapchat will use your Wi-Fi or cellular data to retrieve the article. This can be more data hogging than your regular snaps because they contain more pictures, animations, and sometimes videos. As a result, when an article from CNN or Complex News starts loading, you lose a lot more data.
Since there is no built-in option to turn this off, you will need to install a modified version of Snapchat such as Phantom Lite or Snap++.
In this section, I'll show you how to do that without jailbreak.
To Install Snap++ on your iPhone:
Click here to download the IPA file
Follow the instructions provided in that tutorial
Once Snapchat++ is installed, open the app on your device
Go to the Settings app and turn off Discover and Live sections
In addition to helping you save your mobile data, this app can also make your Snapchat feed looks cleaner.
Enable Low Power Mode
Instead of letting Snapchat waste your precious battery, turning on Low Power Mode is one of the best solutions. Turning on this feature will turn off Email fetch, Automatic downloads, background app refresh, and some visual effects on your iPhone.
To turn on Low Power Mode:
Go to the Settings app
Tap on Battery
Enable Low Power Mode
If you have a jailbroken device, click here to learn how you can make this feature more robust.
The four fixes above should help you save a fair amount of mobile data and battery when using the Snapchat app. You should only use the "Clear Cache" method every once in awhile to prevent Snapchat from killing too much of your storage space.